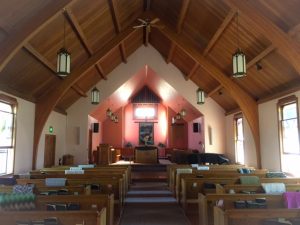 Do not come to church if you have a fever, a dry, hacking cough, or any other indicator of COVID-19.
When you enter the church you will register your participation on a clipboard by the parking lot entrance door.   Please enter there and use hand sanitizer as you enter.
Everyone will wear masks at ALL times.  The exception will be the scripture readers and the pastor while they are speaking.
You will need to maintain a 6-foot distance between un-related persons, even while coming in and exiting.
There will be NO singing but our famous JCUMC Virtual Choir will make an appearance here and there!
People will sit distanced in the pews – 1 person or 1 family unit per pew. Couples and families can sit together.
If you wish to bring an offering, place it in the offering plate as you enter the sanctuary.  You can also donate on our website.  Just click the GIVING tab.
For Communion we will use pre-packaged, sealed, Communion elements.  You will pick one from a tray as you enter the sanctuary.   When it comes time for Communion, each person will peel off the top seal of the cup and take out the wafer.  You will then peel off the second layer seal to access the juice in the cup.
You will be dismissed pew by pew to allow for social distancing and you will immediately go to your cars.
There will be no fellowship time.
We will record the service and post it to the website as soon as possible for those who are unable to attend and wish to worship at home.
Thank you for helping us keep each other safe!